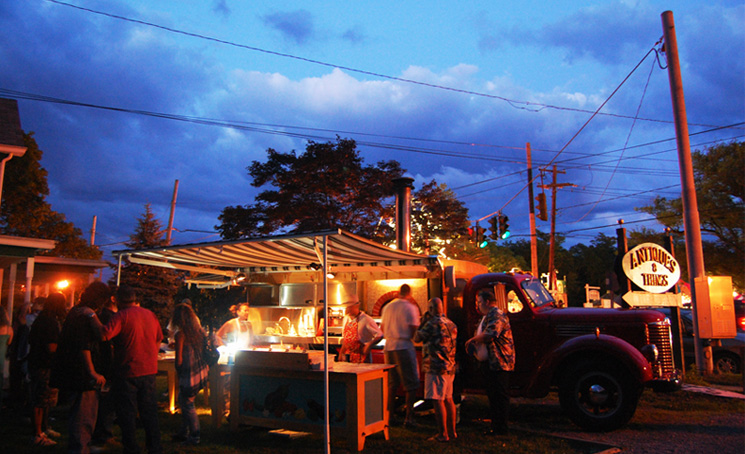 About
Rolling in Dough combines two of the coolest inventions: automobiles & pizza.  Our fully restored 1943 K-6 International Harvester truck is a party on wheels, providing the Twin Forks with mouthwatering, wood-fired, brick-oven pizza for every occasion.
Owner Matt Michel discovered the International Harvester K-6 for sale online in 2008. We're not sure of its history before it became a traveling wood-fired pizza unit, but it's possible the heavy-duty vehicle served in the Second World War. When Matt drove down to Maryland for his first live look at the future of Rolling in Dough, the truck was primed a dark grey–nothing like the glossy red it is now. But, he recalls, the gorgeous, sweeping curves of the fenders & grill alone were practically enough to seal the deal. His favorite feature: what he calls the "bug" headlights. And, of course, receiving a lot of smiles & waves whenever he's behind the wheel.

EVENTS
Saturday, April 27
Join us for CREATE: An Arts & Crafts Fair at the Peconic Community School.
Time: 10-5, Pizza 12-3
Location: Grounds of the East End Arts Council, 141 East Main Street, Riverhead
This event will feature beautiful wares of local East End artisans such as hand knit clothing, beach glass art, handmade jewelry, as well as local food, wine, and an auction. Unique student-created crafts will also be available. Rain date April 28th.
We'll be making pizza, hope to see you there!