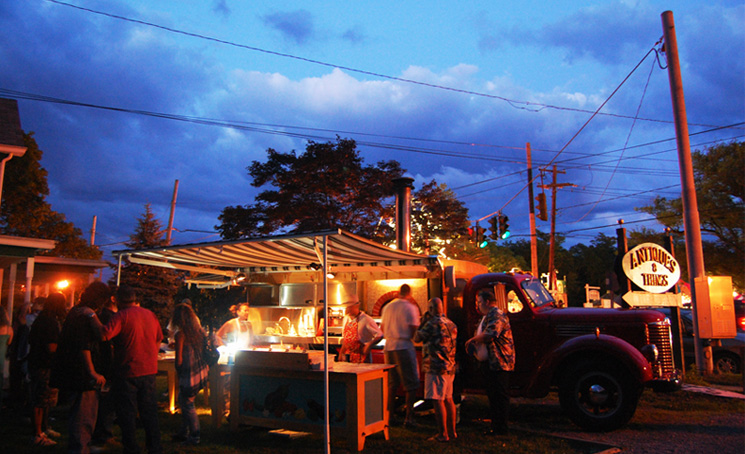 About
Rolling in Dough combines two of the coolest inventions: automobiles & pizza.  Our fully restored 1943 K-6 International Harvester truck is a party on wheels, providing the Twin Forks with mouthwatering, wood-fired, brick-oven pizza for every occasion.
Owner Matt Michel discovered the International Harvester K-6 for sale online in 2008. We're not sure of its history before it became a traveling wood-fired pizza unit, but it's possible the heavy-duty vehicle served in the Second World War. When Matt drove down to Maryland for his first live look at the future of Rolling in Dough, the truck was primed a dark grey–nothing like the glossy red it is now. But, he recalls, the gorgeous, sweeping curves of the fenders & grill alone were practically enough to seal the deal. His favorite feature: what he calls the "bug" headlights. And, of course, receiving a lot of smiles & waves whenever he's behind the wheel.
WATCH THE VIDEO: An inside look into Rolling In Dough Pizza.

EVENTS
Brix & Rye
Come join us on
Monday & Thursday
nights for live music
8-11 p.m.
Also, thanks for a great season with the truck!